is the name of the campaign we don't want to complain, cry, moan...

We are grateful for the great support of all our existing partners, especially the Statutory City of Brno and the South Moravian Region.

With this campaign we want to respond to the ever increasing interest of young disabled athletes in the Emil Open and to the fact that our existing partners simply do not have any more opportunities to support our games.

Therefore, we would like to find new partnerships and at the same time spark a social discussion that will fulfil the sporting aspirations of the unregistered participants of the Emil Open.

Read our interview with the President of the European Youth Games for the Disabled Emil Open to find out more.

Thank you for flying in with us.
"And so at some point you are faced with the decision of whether to leave some kids at home or take the risk of raising money after the Games." The president of the Emil Open reviews the 11th annual Emil Open.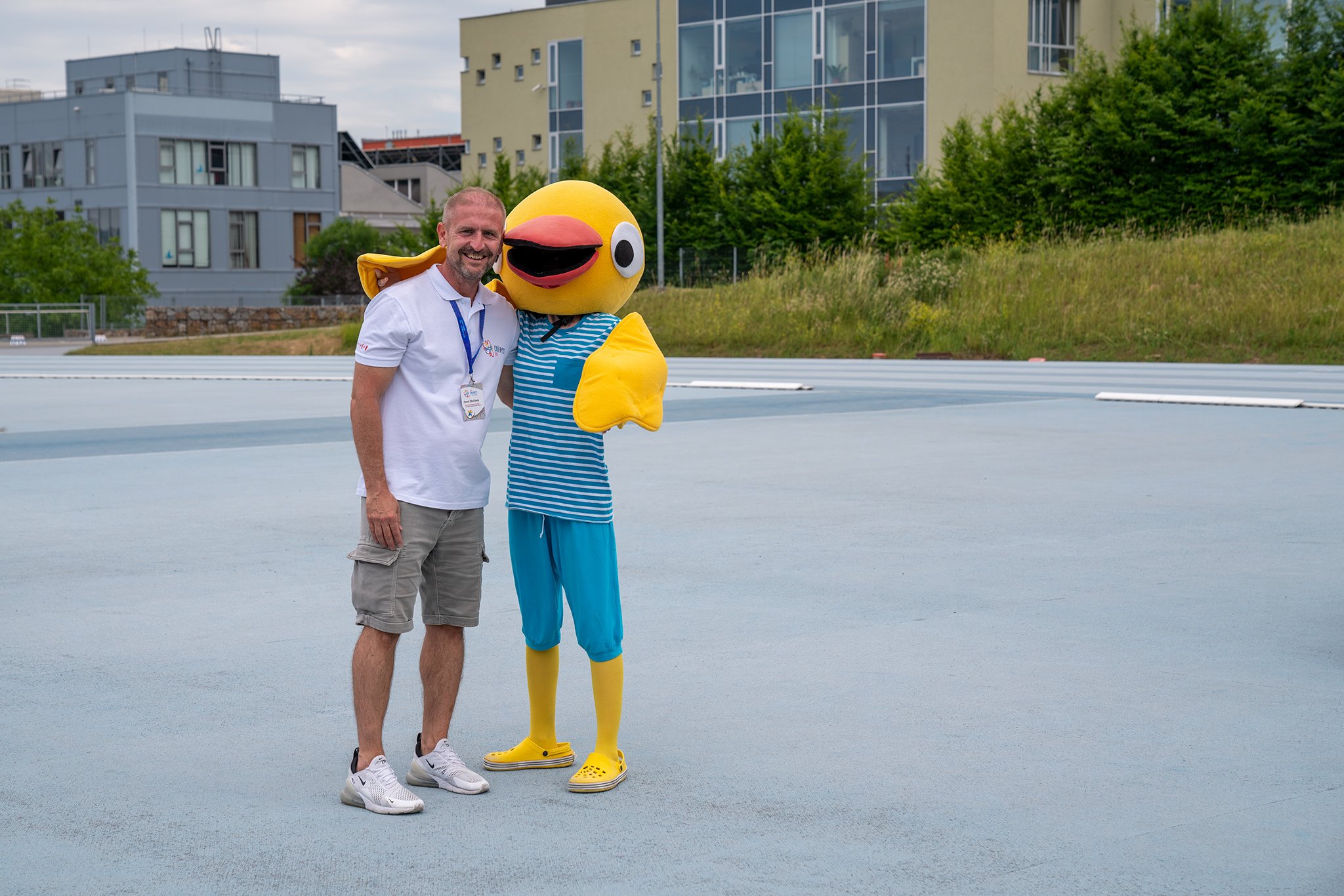 The 11th year is over. What else can we ask than what it was like?
The largest one so far! But also beautiful, demanding and recharging at the same time.
Recharging?
Yes, I always recharge myself at Emil Open. It's a wonderful feeling that I recommend to everyone. To see the genuine joy, gratitude and enthusiasm, that's probably a drug for me. This year, we chose Anička to be the face of Emil Open, she's got all of this in herself and concentrated. And I believe that also thanks to her, we were able to send these emotions to those who were not at the games.
Why do you choose the face of Emil Open every year?
To show what I am describing. These are incredible stories of determination, diligence and the drive to overcome all kinds of obstacles. And because it also includes finances, we connect it with particular help - in addition to the fundraising campaign we organise during Emil Open, we usually donate the gain from the fundraising show with Jan Kraus to the chosen story.
Let's get back to the course of the games. Another typical question - what went well and what didn't?
We managed to handle a huge amount of participants. This year, there were over eight hundred. We introduced two new sports - archery and cycling and we brought some new partners. For example, the Slovak organisation APPA and HENDICENTRUM, which have over thousand disabled clients, some of whom they would like to bring to Emil Open. But also new corporate partners who send their employees to volunteer at the games.
And what didn't go well? Raising money. Unfortunately, this year's Emil Open ended in the red.
How can this happen? Bad financial management?
It's not the financial management. We knew about it. Everything is getting more expensive - from accommodation and food to rentals and services we use. Even though some partners tried to increase their support, it wasn't enough. And so at some point you face the decision whether to leave some kids at home or take the risk of getting the money after the games. And I am very happy that no one was for the first option.
Who are the key partners of Emil Open?
Since the very beginning of Emil Open, it is mainly the city of Brno and the South Moravian Region. At the last minute, Brno increased its contribution from 1.5 to 1.84 million, and the region concluded a three year Memorandum of Cooperation with us, which guarantees financial support for this period. This year, it went up to its maximum - 850 thousand czech crowns. We owe them a huge thanks for that. Other key partners include the municipal companies SAKO Brno, Teplárny Brno or ČEPS.
It's also the individual regions that contribute to the accommodation and food of their participants. Unfortunately, I am sad that not all of them are willing to contribute to their athletes' stay in Brno. When I see some of their representatives show up at the Children and Youth Olympics and how much money they donate to this event or support sports, I wonder how our children are different that they don't deserve the same support.
What kind of budget do you have?
This project is actually quite expensive. Nevertheless, we do not want to stop paying for both the accommodation and food for the participants - exclusively in cooperation with university dormitories and canteens. Many participants are children or teenagers from various types of schools and social institutions and for many of them, any financial burden is a reason to not participate. We were able to see it this year in transport to the games. We lost the czech railways as our partner. They always provided us with vouchers for free transport to the games for some participants within the Czech Republic. You wouldn't believe how many teachers contacted us to see if they would be able to attend the games with their athletes.
But to answer your question about the budget. It mainly depends on the number of participants and the size of the accompanying program; it ranges from 3.5 to 5 million czech crowns.
How do you want to cope with this loss and how do you want to solve it in the future?
We are working on it! Luckily, we have people around us with whom we've been working for a long time and we deal with it in regular meetings. For example Josef Středula, who is healthily annoyed by these things and shares his own experience or Senator Roman Kraus, the chairman of the Health Committee, who tries to connect us with pharmaceutical companies. Last but not least, the chairman of the National Sports Agency with whom we are trying to find a way for national support.
So you are not worried about Emil Open?
Of course I am. But I believe that thanks to the above mentioned, we will be able to cope. And not only that. I believe that some new partnerships will help us grow. We are planning to launch a campaign ''SAVE EMIL OPEN!'' through which we plan to trigger a social discussion on the topic of sport and physical activities of people who are not yet registered in any clubs and whom we can motivate and bring to sport.
But we have another pain point. We are not able to create an offer to Emil Open participants, such as ''Honzik, you are good at running. You are from Rožnov and we have an athletics club there. Come and do sports with us.''This is one of the topics we are discussing with the new chairman of the Czech Paralympic Committee, Zbyněk Sýkora. He was the first chairman to come and see Emil Open.
How can Emil Open grow? We know that in swimming, you have hit a capacity maximum this year.
You are right! But swimming is very specific. Because we have athletes with mental disabilities, we can only go into a 25-metre pool, which limits us. The capacity at Kraví Hora is 95 swimmers and we had over 150 this year. But that is solvable. We will just book two pools for next year.
But the growth is mainly in expansion of the sports offer. At the beginning, I mentioned two new sports - archery and cycling. But the possibilities do not end there. Apart from the collective sports that we have so far only in the form of sports camps for newcomers, we are open to everything. And we don't have to stick to sports only. We have been talking about including a show of movement pieces.
Is there anything else you would like to mention, a wish or a message you'd like to convey?
First the wish. Most of all, I wish to get a long-term and strong partner, to sustain the growing interest and to have the opportunity to present the topic of sports for the disabiled to the public a little bit more.
Finally, I'd like to express my huge gratitude and thanks to the entire Emil Open 2022 team, partners and everyone who helped in any way.